Parking for Chicago Aerial Arts 4321 N Knox Parking Garage
As of April 1, 2021, Chicago Aerial Arts customers will be able to use the ParqEx platform to book complimentary parking through the ParqEx app (via smartphone or website). For all your parking needs, check out the instructions below.
The 2 HOUR FREE Parking is available exclusively for Chicago Aerial Arts customers when attending events, classes, or visiting the facility. promo code "CHEERDESTINY2"
to get the first 2 hours free.

This app also allows pedestrian access to the building.

Download the Parkex app: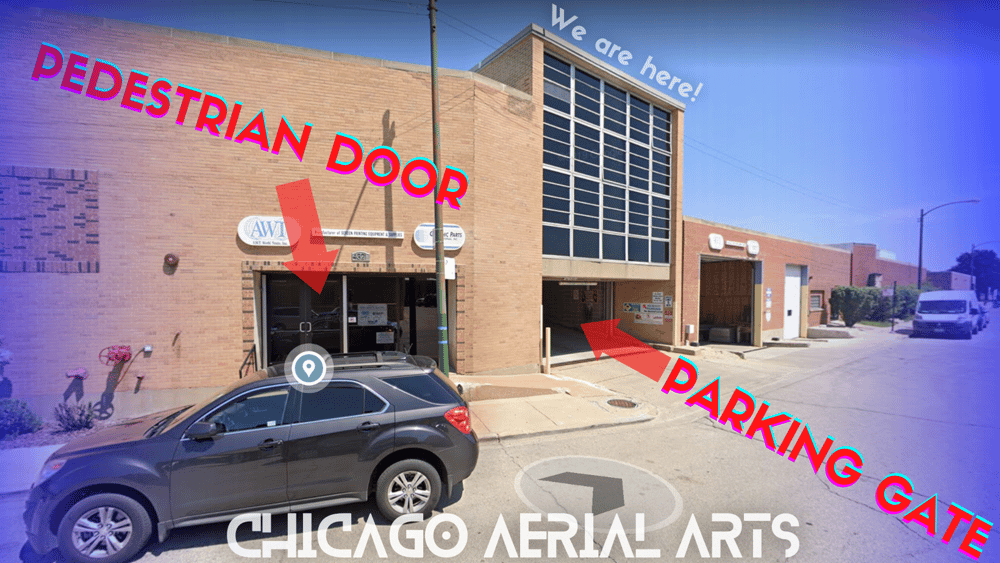 Here's how easy it is to book a parking spot:
• From the Renter side menu, select "Book for a Parking Spot".

• Enter the property address, Arrival and Departure date and time, and click "Search" to find a parking spot.

• Select the "Book" button next to the property. Enter your vehicle, credit card, and the promo code "CHEERDESTINY2" to get the first 2 hours free. Click "Place Order" to complete the reservation.
When you arrive, the License Plate Reader (LPR) cameras will validate and open the garage door.

If you do not have a front license plate, launch the ParqEx app and use the "OPEN GARAGE DOOR" button from "Property Access+" to open the garage door. For detailed instructions, please refer to the user guide or the video below.
Frequently Asked Questions
Why do I need to provide my name, email, phone, and vehicle information?
Providing this information helps secure the community and ensure the proper people have access. Email & a mobile phone number is required to ensure you receive important communication from ParqEx.
Is Vehicle information necessary?
Accurate vehicle information (Make, Model, Color & License Plate) is required in order to keep the property secure and enforce the parking lot. If you have no car, type N/A into the vehicle information to use the app for the pedestrian door.
How can I change the email address on file with ParqEx?
Contact ParqEx Customer support with the correct email address and you'll be set up with a new account.
What if I already have a ParqEx account?
This program is private, meaning that approved user emails are added to a list that allows them to benefit from this program. If the ParqEx account email has not been added to the permission list, you will not be able to take advantage of this program. Contact ParqEx customer support.
What to do if someone is incorrectly parked in your assigned parking space?
If you are unable to access your assigned space for any reason please contact the owner or rental manager and inform them of the issue. If you are unable to reach the owner or rental manager please contact ParqEx customer support for assistance.
What if I don't receive the email notification from ParqEx?
Please check your junk/spam/promotions mail folder. Also, add "[email protected]" to their email safe list to prevent this from happening in the future.
CONTACT PARQEX SUPPORT
If you need help or need to ask us a question, email ParqEx here. Need immediate help? Call 855.727.7391